Laser ceramic printer(whole set)
laser ceramic printer Ricoh3300
Released in time:9/29/2015 12:06:36 AM Browse The Times:3694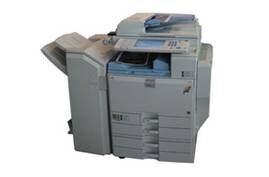 Ricoh MP C3300 is the high performance cost ratio model in Ricoh brand ceramic printing models. It?¡¥s high resolution and vivid color. We have done the configuration file [ ICC profile] to make the ceramic printing more convinient and highly restore to the original picture. This model is suitable for good image quality personalized ceramic products or ceramic artwork. Installed 1kg CMYK big quantity toner for customer?¡¥s use. The installed ceramic toner is 780?a840 celcius degree. We also have other temperature ceramic toner/glass toner/enemal toner, contact us if any demanded.
For this model we research RED system for part of customer?¡¥s demand. Contact us if any demanded.
Resolution:1200dpi*1200dpi
printing size:A6-A3
printing speed:33pcs/mins
weight:more than 130kg
printer size:670*671*760mm
Installed laser ceramic developer 1kg, laser ceramic toner 1kg.


Operation process:
Print decal paper by our laser ceramic printer-----waterslide transfer/ laminating transfer to tile---scrape the water out-----fire in high temperature.
sample made by this model