Ceramic toner
laser ceramic toner(RGB and other colors)
Released in time:3/3/2014 11:49:31 PM Browse The Times:4822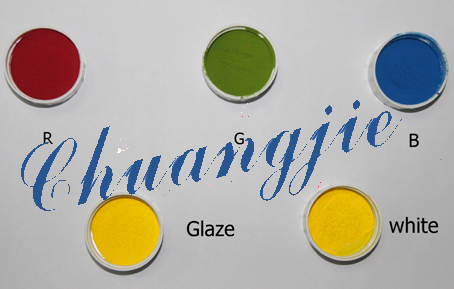 Laser ceramic toner multi-color system
For more customers demand,we produce not only CMYK,but also RGB and glaze,white color toner to make the laser ceramic printing crafts can realize more ceramic decal printing apply.
Glaze toner usage: Above the layer of image to improve the image brightness.
White color toner usage: Under the layer of image to show the image vivid when you print image on the glass products and colored ceramic products.

Compatiable with: Ricoh/Konica minolta
Resolution 600dpi*600dpi/1200dpi*1200dpi/2400dpi*2400dpi
Physical performance Round and uniform shape. This will show a good mobility when the printer work.
Temperature 780--830 celsius degree on the ceramic material
550--620 celsius degree on the glass material
700 celsius degree on the enemal material
Ingredients CAS No. Content ( %)
Resin 201058-08-4 55
Ceramic pigment ------ <44
Silica 112945-52-5 < 1
Other ------- < 1