NEWS
Good news!Big discount for laser ceramic printer and laser ceramic toner
Released in time:9/28/2015 10:45:47 PM Browse The Times:1483
As wuhan youneng i&t co.ltd has established for more than 10 years.The laser ceramic printer model from one model to 10 models, from only personal memory ceramic tile products printer model to decal paper industrial produce model. We're very grateful for all the customers' trust and support.

As a manufacturer of laser ceramic toner, this year we built better and higher producing capacity equipment---300ton/year.This directly change the cost of producing laser ceramic toner, Also change cost of laser ceramic toner.For grateful feedback to customers,now all our printer model decline 30%--50% price, our laser ceramic toner decline 50% price.Details as the following chart: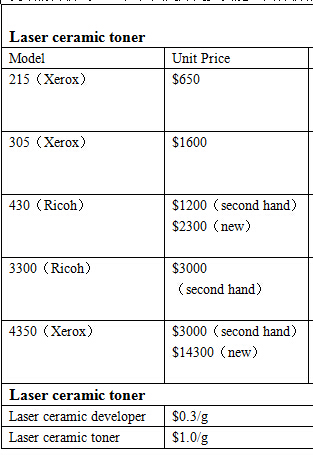 Even the price decline a lot,but the image printing quality is still good.You can test our free decal sample to know.


Thanks again to all the customers.